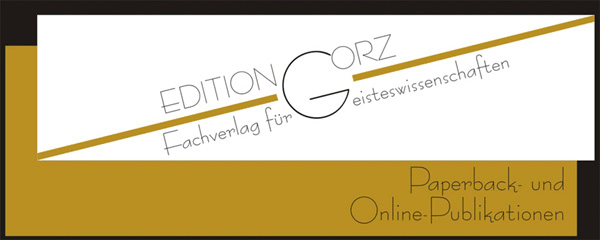 Advantages for you:

Edition Gorz allows you to present your arts and humanities studies to the scholarly world and to the public for a minimal price.
Within a very general framework of conditions, you yourself determine the structure, style, language, and layout of the publication as well as the number and kind of illustrations.
Once you have provided the postscript or PDF files, it will take only between 4 and 6 weeks for your study to appear on the internet and for the reference copies to be mailed – and not months or even years.
Edition Gorz takes care of everything connected with the print publication (from packing to mailing, billing, and eventually paying your royalties) and with the internet version (updates, link to reviews, etc.).

With us you may publish in any of the EU languages, and you can communicate with us in any of the four international tongues (German, French, Spanish, or English).
Conditions Formating Catalogue


Help with professional manuscript formating for book publications